For many years I have been working in the health sector,
and have always been drawn to the holistic aspect of it.
Together we will find the path
to reestablish your well-being while reducing your stress
through preventive measures.
Your answers to the following questions will allow you
to promote happiness in your life!
How do you manage difficult situations in your life
while staying healthy?
Which resources are available to you to improve your health?

How do you obtain your individual balance?
Interacting with people,
helping them to feel better in their existence is crucial to me.
Therefore I am offering you
an individual Personal Coaching Program
as well as Classes and Seminars.
sincerely y
ours,
Gabriela Mai

I have been practicing Qi Gong for 7 months and really enjoy the classes and have had major health benefits.
I suffer from a bad back and neck and Qi Gong has really helped reduce the symptoms and increased my flexibility.
The relaxation and stress relief exercises have also had a positive impact on my well being.
Gabriela is an enthusiastic and supportive teacher and changes the exercises to help with particular issues.
Jane Parker, E.ON Energy Trading


I have started Qi-Gong in April this year. Since then, I enjoy beeing part of your class in EET's Gym.
I am happy having chosen Qi-Gong as I feel, that it is a very good supplement/balance to other more apparently powerfull and quick sports. The excercises help me to calm down and to start a day in an energizing way (even if I have not found/taken very often the time for it in the morning as there is ever a debate with the alarm clock and the morning tiredness).
I like your way of explaining the excercices with ease but with a lot of enthusiasm. As I struggled in the beginning sometimes with the english explanations (as I am not native speaker) I appreciate very much, that you take time for individual support and that you never have a critical eye on us, if we are doing the excercises in the right/effective way.
Thanks a lot,
Helge Naescher, E.On Ernergy Trading

Dear Qi Gong Friends,
The inscription is mandatory for Trial Classes.
If you attend the class for the first time,
please find the address and map as an attachment.
Address:
Fürstenwall 194
40215 Düsseldorf
Ph.: 0211 41 65 84 81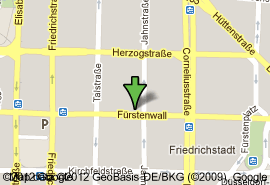 Come to the Qi Gong demonstration event and have fun. You are learning movements and postures to reconnect with your body, mind and soul. It's a lot of fun and we are going to have a good time.
Clothing: sport or jogging cloth and do not forget your water or something to drink.
Mind and Body exercises:
stress relief
suitable for men and women movement, concentration and breathing techniques are combined improvement of the Immune System and enhancement of self-healing abilities creates the life force energy and increases the vitality reestablishes the body, mind and soul.
I am looking forward meeting you,
Sincerely,
Gabriela, Kerstin